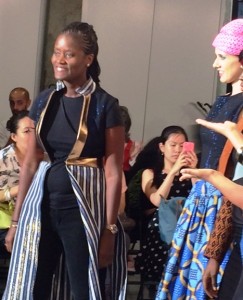 Safiétou Seck, a fashion designer and entrepreneur from Dakar, Senegal created SARAYAA, a clothing line for women in 2014. She describes her designs as being a mix of traditional African fashion and modern fashion. One of her objectives is to showcase African handwoven fabrics from countries such as Senegal, Burkina Faso, Nigeria, Ghana and Ethiopia that are not well known and to recognize the women and men who patiently weave these beautiful pieces. Safiétou chose the name SARAYAA to express the idea that women are precious and unique, Saraya being a gold mining region in Senegal. By creating unique and high-end collections, she wishes to reflect that idea.
Why did you create SARAYAA?
SARAYAA is a childhood dream. I think I was born to be a designer. At an early age, people told me I was very original in the way I dressed and they asked me where I dressed. Indeed, family members and other people often said I was really an artist because there was always something different about my clothes. I was actually the one designing my clothes. So, I can say I have had this passion for fashion for the longest time. I always knew that sooner or later, I would create my own clothing line because I strongly believe that life should be about expressing our passion. If we don't live our passion, then what is the purpose of living, basically? We truly live when we do what we love the most. So I decided to create SARAYAA, not only because people thought I should go into fashion but also and mainly because I breathe SARAYAA, I live by SARAYAA. I don't even notice it at times. When I see beautiful fabrics for instance, my mind automatically tries to put together pieces and colors. It is all about designs. Bringing life to my passion is one of the main reasons I decided to create SARAYAA. SARAYAA was legally started in October 2014 but was officially launched on April 1st, the day after my birthday.
What actually motivated you to take your leap of faith and create SARAYAA? You explained earlier that it was a childhood dream so what motivated you in 2014 to finally achieve this dream?
Life is about change. Life is about daring to live our passion. A lot of people live without materializing their passion. Some people choose to live with no change in their lives. Maybe it is their own way of seeing things and they are happy with their lives, which is fine. Through my experience though, I realize that life shouldn't just be a straight line. I think that you have to bring to your life what you love the most. For me, it is SARAYAA. SARAYAA is about changing my life, it is about passion.
What really motivated me to take my leap of faith and create SARAYAA is an experience I lived in 2013 when working as an economist at the US Embassy in Dakar. I had the immense chance to meet President Obama and his wife Michelle during their official visit in Senegal. I was part of the team in charge of organizing their visit on the Island of Gorée, a former slave trading center. A member of the Obama team approached me and told me that Michelle Obama would have loved to have my dress. That was totally unexpected! That was THE trigger. I told myself I just needed to get up and create SARAYAA because I had waited for too long. I had returned to Senegal 11 years ago and had not created my line of clothing–which was the main reason I had decided to come back. It was now time for me to do it. That experience was a call for me to go for my dream.
What type of clothing do you design at SARAYAA and who do you target?


The kind of clothes I make is called "tradi-modern" in French. There is a lot of tradition and modernity in my clothes–tradition because I am very fond of the fabrics that we make in Africa. They are handwoven with cotton. Such fabrics were found in Mali in Dogon tribe sepulchers dating from as early as the 6th century. This is just to show how old they are. Through their meaning, their colors, they are very symbolic. Unfortunately, they are disappearing because as Africans, we don't wear them enough and we don't value them enough. We often submit to the clothes and fabric that come from abroad but we should not forget what we have. What we have is beautiful. I use these fabrics in my collections and they make my designs very original and amazing because I mix such fabrics with cloth from outside Africa, namely Europe and the United States.
I call my designs modern because I use the handwoven African fabrics to create "western" styles. We are in a world where the African woman, or any woman as a matter of fact, wants to feel beautiful in an outfit that is original and different. I remember that when I was in the United States and other countries, I had problems finding clothes that I could relate to. That is actually why I decided to start designing my own clothes. My clothes are for the woman who wants to feel comfortable in them yet wants to feel different and original. To summarize, I would say that SARAYAA's collections are modern clothes made out of African fabric. SARAYAA is positioned high-end.
Where do you see SARAYAA in five years?
In five years, I hope that I will have conquered other markets in the African continent. In Africa, we know handwoven fabrics. However, the new generation doesn't realize what we can do with it, how to value whatever we are wearing. Through SARAYAA, I wish to raise some kind of awareness by saying, "Listen, that is what we can do with what we have. No need to go any another place and spend thousands of dollars on clothes." It is true that it can be our choice but I strongly feel that we need to have some type of economic patriotism. This is really important. We have to value what we are. We have to value what we have because what we have is amazing. I would like SARAYAA to be everywhere in Africa in five years. I want SARAYAA to be in Ghana, in East Africa, in South Africa, etc.
I am also determined to be present in the American market, especially in the African-American market. My experience as a student at Spelman College in Atlanta showed me that a lot of African-American women identify themselves with the African continent and it is normal because of our history. I remember that I was stopped by many women who told me, "Wow! What you're wearing is very nice. Where is it from? Where do you come from?" My origin was very important to them. I sensed they could relate to me in what I was wearing, in the clothes that I was making.
In five years, I also aim for SARAYAA to be present in the European market. I just left Paris where I participated in a fashion show. I saw there was a need. The feedback I got was amazing because people were telling me that the handwoven fabric, the way the clothes were cut and the colors were mixed was simply incredible. People really loved SARAYAA.
Last but not least, through SARAYAA, I want to continue to contribute to sustain the precious work of the women and men in Africa who weave the fabrics I use. It is a craft that is disappearing and that is not well recognized.
What challenges do you face as a woman entrepreneur in your country Senegal?


Unfortunately there are a lot of challenges. Financing is of course one of them. Sometimes we have goals but we don't have adequate funds to achieve them. I do my best to seek help through banks, multinationals, etc. Managing staff is not always easy as well. It is the biggest challenge. Sometimes, it is very difficult to keep people focused on the goals you have set for your company, to find employees who come to work on time, who have the same idea of quality work because when we are a company that wants to export like SARAYAA, it is crucial that our products meet international standards. We simply have to take into consideration how culture affects work ethics. However, I think all these challenges are manageable. I see difficulties but I don't think it is impossible to face them. I think that with passion and determination, it is possible to achieve our goals despite the challenges.
What carries you through this entrepreneurial journey which, at times, must be quite challenging? What do you do to keep motivated to achieve your goals?
I realize that creating my collections is therapy. Thinking about how I want to mix colors, forms involves a lot of reflection and it takes a lot of time so it keeps me busy. I also mentioned earlier that I am passionate about what I do. Yes there are days when I think, "What am I doing? Will I be able to do it?" My company was officially launched three months ago but in three months, I was able to organize a fashion show that attracted 500 people in Dakar. It was sponsored by a large multinational company, Samsung. I also did a fashion show in Paris. It was physically draining but these experiences showed me that nothing is impossible. I think that my passion always takes over during the times I am down–that tells me that I really love what I do. I am determined to stay on board no matter what. Whatever I go through, the common denominator is my passion and my determination.
You participated in the fashion exhibition Labo International held from June 12 to 14 at the City of Design and Fashion in Paris. What were the benefits and drawbacks of your experience?
I will start with the drawbacks. I would have wished that the event was more publicized, that there was more communication around it to attract more visitors. I think that the visibility was not as much as I thought it would be. I would have also liked to sell more than I did since participating in a fashion exhibition and fashion show in Paris is financially demanding. At the same time, I am not discouraged at all because the event allowed me to have visibility in a foreign country, in the capital of fashion Paris. No other event would have allowed me to do that. Not selling much also gave me a great lesson of humility.
People were extremely positive about my clothes. Some even told me, "You should be dressing stars or famous women leaders." I think they were not really expecting to see the African handwoven fabric that I use. I feel very proud. I gave visibility to something that does not have much visibility, something that comes from Africa and that is not well known outside our borders. I am sure that people came and saw for the first time fabric that was handwoven in Africa.
I was able to do a fashion show in Paris, to gain visibility and to meet great people. Not a lot of people have this opportunity at such an early stage of launching their line of clothing so I feel very grateful. I have no words to describe how very grateful I am to have had the opportunity to participate in this event.
Did you have any pleasant surprise during your participation at Labo International in Paris?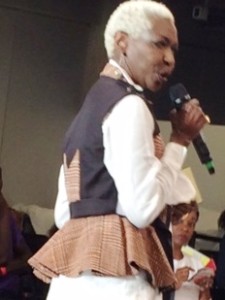 Yes indeed! The most beautiful surprise was the people's reaction to SARAYAA. However, I was also very surprised when, right before my fashion show, the current Ambassador of Guerlain, Princess Kamatari from Burundi who was a famous model in the 70s, wore one of my creations, a sleeveless jacket, while doing a short speech. That was not expected at all! I was so surprised when one of my friends showed me the pictures she had taken. I was also interviewed and my interview was published on the web. I am still surprised when people call me and tell me they read my interview.
I would like to add that it would not have been possible without the support I got in Paris. I had no idea of what to expect. I thought I would go by myself and do whatever it takes. Honestly, if I had been there by myself, I would never have been able to make it such a beautiful experience because there was just too much to do for one person, despite my ability to anticipate–the organization, the fashion show, managing the people. I was blessed to have people who were there for me. I feel grateful for that.
As a fashion designer and woman entrepreneur, is there a special message you would like to share with women around the world?
Whatever project or dream you have in life, the number one thing that you should do is to take it seriously because it is not going to be an easy road. There are challenges that will come in. You have to take those challenges with you and not give up. You need to have passion. If you don't have passion, there is no way you are going to be able to persevere. You need to have determination. You need to fight for your dream as if it were your own kid. If you don't have faith, if you don't have the passion and the determination to do it, if you don't take things seriously, then it is not possible to achieve your dream. If you have these ingredients, then you have everything to be successful. I don't think that I am at a point where I have success yet but what I have accomplished so far shows me that I have all the ingredients that will help me reach that success.
What is your definition of success? What does it mean for you to be successful in life?
Having a dream and being able to accomplish this dream. Yes, SARAYAA was my dream. I was able to achieve my dream and create SARAYAA but I cannot talk about success because it is too early as far as I am concerned. SARAYAA is just three months old. But, having a dream and being able to give birth to my dream means that success has started.
A lot of people associate success with material success. How do you feel about that?
Success is a number of things. Success can be financial. Success can be something that you have inside that you want to create, that you want to make alive. You can define success by many things. Yes, money is important but money is not the most important thing. I think that being happy because you are living your dreams is the most important. Being able to touch as many people as possible through your dreams for me is success. If that comes along with financial success, then that is perfect because without finances you can't live, your business cannot live. I went to Paris and I came back with barely any money but I realize I have touched a lot of people. So to me, that is success.
Is there anything else you wish to add?


What I would like to add is that if you are a woman or a man who is thinking of pulling your dreams alive, I encourage you to do so. In life, you have to listen to your heart. You have to be faithful to yourself. You have to be faithful to your dreams. That is very important. If you don't listen to your dreams, then you become somebody else, you become something else. SARAYAA is another side of Safi. SARAYAA is actually completing my life because SARAYAA is totally me. SARAYAA is responding to my needs. SARAYAA is responding to my fears. SARAYAA is responding to everything. That is what makes me who I am right now. That is why every day, when I wake up, I feel fulfilled because something that is part of me is no longer just an idea, it is now something real. It is something that I can touch. It is something that is alive. I think everybody should have the opportunity to live such an experience. It really makes life more complete. So I encourage anybody who is thinking about launching their own business because it has always been their dream, to do it.
To visit the website, click on www.sarayaafashion.com
Interviewed by Aïda