Connect with professionals who are dedicated to improving the lives of women in various areas namely through coaching, leadership, empowerment, fashion, beauty, health & wellness.
Dr. Aïsha Conte, Owner of Nyara a health, wellness & beauty enterprise ~ Dakar, Senegal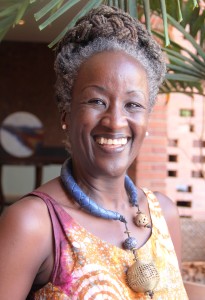 NYARA promotes and enhances the value of local African products such as shea butter and Balanites (desert date) oil from Senegal, cocoa butter from Côte d'Ivoire, and essential oils mainly from Madagascar, Morocco and Tunisia. They are used in the quality cosmetics and phyto-aromatherapy products Nyara creates for women, men and children. In addition, Nyara designs unique jewelry beautifully handmade with materials like beads, wood, leather, bronze and silver. Nyara is an eco-responsible enterprise that has implemented a recycling system for its packaging. It also empowers rural women through economic emancipation. 
(www.facebook.com/nyarabio.senegal)
Claire Molinard, Unique Self Teacher, Master Integral Coach ™, PCC ~ Paris, France
Claire Molinard shares her time between training coaches and coaching individual clients. She is the co-founder and co-creator of the Unique Self Coach Training certification program for coaches and the Unique Self Coaching process for individuals–which both have a profound spiritual dimension. At the Unique Self Coaching Collective, they "believe that everyone has a unique purpose and that joy arises naturally when one lives in the reality of their unique calling as a gift to the world. This is what it means to be living as Unique Self." Therefore, one of the objectives of the Unique Self approach is to "help individuals fulfill their highest purpose through Unique Self coaching and training that engage deep and sustainable transformation." Having lived in four continents in the last 20 years, Claire brings to her training and coaching her rich international background. When she isn't teaching or coaching in the US or in Europe, Claire lives joyfully between Abu Dabhi and Paris with her husband and three daughters.